MacLean Bros. Woodworking - tables, fireplace mantel, panels on circulation desk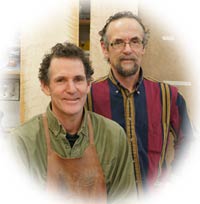 David & Peter MacLean, MacLean Bros. Woodworking
227 Old Beaver Road
RR#1 Antigonish NS
B2G 2K8
T: 902.863.2922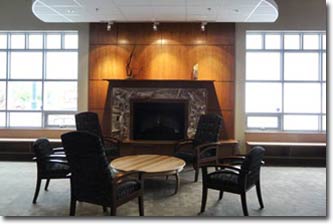 We have been operating together for 30 years from our shop in the Beaver Meadow area of Antigonish County. Working with wood is our passion. Over the years it has been a rewarding experience for us to collaborate with artists in other media to compliment or complete their work. We welcomed the opportunity to utilize our experience to contribute to this facility both functionally and aesthetically. It is commendable that the People's Place has endeavored to involve local artists, artisans, and craftspeople. Our products are available at many craft stores throughout Nova Scotia including Antigonish (Made in Nova Scotia Store and Lyncharm Pottery), the Atlantic Provinces and in Ontario. We are located 2 km off the Trans Canada at Exit 30 towards Keppoch Mountain.
Tables
Throughout the library there are 15 tables, made by MacLean Bros. Woodworking. All table tops are constructed from Bird's-Eye Maple sourced in Nova Scotia. Bird's-Eye Maple is indigenous to the Acadian and Great Lake-St. Lawrence Forest Regions of Eastern North America. The Bird's-Eye Maple pattern or formation can occur where ever Sugar/White Maple grows, but is often in mixed hardwood stands in harsh northern growing conditions, often in deformed trees. This perfectly describes the forests of Nova Scotia.
Mantel
The woodwork component framing this fireplace was created by master craftsman Peter MacLean of MacLean Brothers Woodworking, Beaver Meadow, Antigonish.